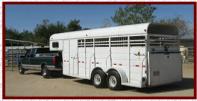 Wayne was born and raised in the Southern California area and has had a love for horses and livestock all his life. He has traveled cross-country as a professional driver for over 25 years, accumulating over
2 million miles of accident-free
driving. Between his road trips, he spent time on the rodeo circuit as a calf roper and steer wrestler and understands the great importance of keeping your animals healthy, stress-free and in optimal condition while they are working and traveling.
Wayne is currently hauling horses, as well as livestock and pets safely to their new locations.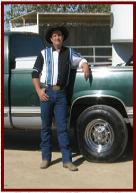 SOME OF OUR RECENT FEEDBACK
Thank you for taking such good care of my animals. He was on time and called me along the way to let me know that my animals where fine. I kept changing the type of animals I wanted to ship and Wayne was very flexible and helped me any way he could. I would use him again.
Thanks again Wayne...


Heather

- Neveda to Tennessee WROTE:

This was a great experience, Wayne of the Odyssey Ranch kept me informed every step of my mare's journey home. She was picked up on time and delivered on time. I highly recommend the Odyssey Ranch to anyone needing their horses transported with care and consideration.
Susan

- Missouri to California WROTE:

Wayne from odysseyranch was wonderful! I had him bring our puppy from Southern CA to the Bay Area. Normally he picks up and delivers horses for his customers, but he was able to accommodate our needs perfectly by providing a crate and comfort for our pet. He was very punctual and communicated the status of delivery very well. Our puppy was relaxed and in Wayne's arms when we arrived. He is very good at his job and was very easy to work with.
Thank you odysseyranch!


Jennifer

- Southern California to Northern California WROTE:

Kandi

- Southern California (Apple Valley) to Northern California (Martinez) WROTE:

Hats off to Odyssey Ranch for a shipment EXCEPTIONALLY well done! Anyone needing to ship an animal, I highly suggest you contact the folks at Odyssey Ranch...super nice people, excellent communication, prompt, professional, and truly care about the welfare of animals they have been entrusted to ship! The kitten Odyssey Ranch shipped for me went from So. CA all the way up to the Bay area, and arrived happy, healthy and virtually stress free! Thank you sooo much...you guys are the BEST!
(2 Horses, 2 goats, 2 geese, 4 ducks and 2 Labrador Retrievers!!)

Hi! I want to say thank you for the good service. Wayne Patterson transported my mare from Indiana to Waterloo, Illinois last Friday. I am very pleased with the service. I wanted to be sure to let you know.
Best wishes for the holidays.



Ann R.

- Indiana to Waterloo, Illinois WROTE:

Jenn C.

- Southern CA to New Bern, NC WROTE:

Please give my deepest gratitude to Wayne for doing such a FANTASTIC job of transporting a 10 month old foal across the ENTIRE United States . She arrived calm, well-hydrated, happy, and ready to investigate her new home. His care and concern for her was evident in how he handled her and how positively she responded to him. I can never thank you both enough for caring so tenderly for my newest family member. You have both gone the extra mile to help me connect with my new baby over such a long distance, and as I said before, I am forever in your debt. Thank you, thank you, thank you.
I just wanted to say Thank you to Odyssey Ranch and Wayne for hauling my yearlings. I purchased 3 yearlings in Wyoming and had plans to pick them up myself, however, the transmission in my truck died which left me stranded. I called around looking for haulers that would haul my babies separate and protected from other horses . I found many haulers pack in the horses for more money and kept the animals on the trailer a lot longer because of the many stops that are made dropping off and picking up horses. I was hoping for a fancier, newer trailer to have my babies hauled in, however, I was very pleased with the service Odyssey Ranch provided. The trailer was actually very comfortable and roomy and loaded with shavings. The weather was cold and the trailer windows were covered with plexiglass siding to keep my babies warm. Odyssey Ranch provided me with a direct trip, door to door service and called me daily to keep me informed. I called a couple times during the trip and Wayne was always happy to talk to me. All I can say, is don't let the trailer fool you. The service is great, the rates are good and
most importantly
, the animals are delivered happy, healthy and in great condition! I would definitely use again if I needed to and would recommend to anyone!!
Brandi R.

- Douglas, Wyoming to Los Angeles, California WROTE:


Excellent job at a great price. Horse got here just fine and Wayne was easy to work with and kept me well informed. Will definitely use his company again. Diane
Diane K.

- Lander, Wyoming to Lincoln, California WROTE:


WHAT WE WILL NEED TO TRANSPORT YOUR HORSE(S)


1. Health Certificate
(Required - if shipped

out

of the State of Origin)

2. Negative Coggins (EIA) Test
(Required - if shipped

out

of the State of Origin )

3. Brand Inspection
(if required)

4. Halter and lead rope
(required)

5. Bale of hay so that there is no diet change in transit
(optional, but preferred)

6. Disclosure of all current Special Needs and any condition that may
require any special care or handling.
7. A

Deposit

of the shipping fee is Required and must be received prior to
shipment of horse(s). The balance must be paid at pick-up or at delivery


PRIOR to unloading any horses.

No exceptions to this rule. Only
cash or credit cards will be accepted at this time.

We accept Paypal, Credit Cards (Mastercard, Visa, Discover), however, a 5% charge card fee will be applied.
10% deposit of Transport Fee (if over $1000); $100 deposit, if transport fee is under $1000 - prior to pickup of horse(s) with the balance of transport fee to be paid in cash at time of delivery. Please contact us for other arrangements.
8. A signed Contract/Transport Agreement must be completed prior to
pickup of animals.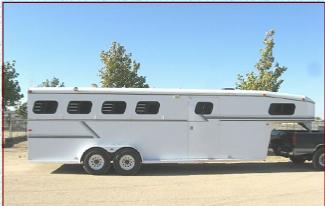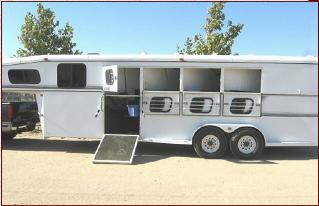 (This comment was made regarding our previous trailer, - pictured here. Since then, we have acquired our new
Trails West
Trailer)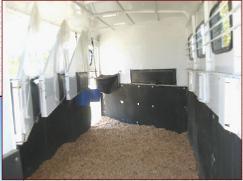 GREAT SERVICE - Wayne, So nice to meet you Friday, we certainally appreciate the wonderful service you provided for hauling our stallion to Scottsdale, and all the T.L.C. you gave him. We will definately use you again, and will recommend you. Thanks again for taking such good care of Tim..... Carol T-----, Santa Rosa, Ca.
Carol T
.

- Santa Rosa, CA to Scottsdale, AZ WROTE:

LOCAL HAULS (WITHIN THE ANTELOPE VALLEY)
Hauling within in the Antelope Valley ranges between $75 to $125 per horse. Additional horse/s will be charged an additional $25 per head.


Price depends on a number of factors including, but not limited to: distance / location, terrain (steep, mountainous, washboard dirt road, etc), loading ability and temperment of horse (hard loader), etc.


On average, most hauls are on the lower price scale, however, each circumstance is different and we reserve the right to base our fee on the factors described above.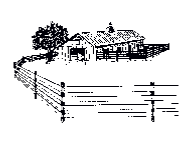 Thank you so much for bringing my mare, Katrina home! My friend Cathy was there when Wayne picked her up in Norco, CA and she let me know right away that Wayne was AMAZING with Katrina and she was very impressed with the way he handled her. Katrina arrived (Acampo, CA) on time and looked great. Wayne took the time to pet and settle her down after unloading her and that meant a lot to me. Thank you again Wayne for bringing my baby home we will definitely use your services again.
~Rod and Paola
Royalbloodfarms.com http://royalbloodfarms.com/
Rod and Paola
- Norco, CA to Acampo, CA WROTE:


If you are a fanatic about your horses and they are more your kids then pets you will want Wayne hauling them. I recently need my two horses hauled to a remote part of Northern California so sent out quotes and got one back from Odyssey Ranch. Researched them and signed the contract. I was still a little apprehensive until the day Wayne and his wife showed up to load them. It all just felt right and I am so glad I made the choice to ship with him. Both my horses 18 yrs and 9 yrs old had a great caring trip with Wayne. He kept in touch to let me know how my kids were hauling. If I ever need to ship again Wayne is the man I am gonna call. Thank you so much Wayne for a great and safe trip for my kids.
Janice D.
- Southern CA to Northern CA WROTE:

Stephanie
- Berthoud, CO to Salinas, CA WROTE:

"We had a six year old foundered stud needing hauled from Colorado to California. We concluded on Odyssey Ranch and could not have been more pleased with their service. Wayne has experience with breeding stallions and even stopped to bute the stud part-way so that he would stay comfortable standing in the trailer. The horse arrived quiet, comfortable and well-hydrated! Wayne was very helpful and easy to work with. We will most definately use them for future hauls whenever possible".
"Wayne was a dream to work with, very honest and reliable, knowledgeable and experienced with studs and he went out of his way to take the horses comfort into consideration. Thank you so much Wayne! It was a pleasure doing business with you and we look forward to using your service again in the future! :)"









"Thanks again for Transporting Glory to Saddleback Ranch! I'm so glad she loaded okay, and sorry for her small freakout at unloading!
I will be sure to keep you in mind for any future transport for myself or anyone else who needs it!
Thanks again for yor assistance! I so appreciate it!"
Best,
Karen G.

Karen G
- Coachella, CA to Malibu, CA WROTE:

We are currently Transporting horses / animals to and from many Southern States including: CA, AZ, NM, OK, TX, AR, LA, MS, AL.
Please call or email for a quote. Thank you.

"I had a 3 year old Morgan filly needing immediate transport from Idaho to California after the transporter I had hired 5 weeks earlier bailed on me on pick up day due to engine problems.
Wayne responded to my email late on a Saturday night and we were in constant contact from that point forward. He did everything he said he would do and was running ahead of schedule and actually picked her up 2 days early on Tuesday!
My filly had the entire trailer to herself due to a cancellation Wayne had on his end. I would recommend Wayne to ANYONE that needs their horse transported. He kept in contact with me from the time he picked up my filly until he delivered her here at the ranch.
Thank you so, so much Wayne, I felt very confident after the emails, and then actually talking to you on the phone that my filly would be well taken care of, and she was!
I will be calling you in the future if we need another horse transported!"


www.equinechallengesupplements.com
www.munecamorgans.com
Kathy H -

Eagle Idaho to Clovis, CA WROTE:



Started as a convenience for our customers, Odyssey Ranch now offers Horse Transportation for everyone.


Our Service is Reliable and Door-to-Door.

Our Rates are Reasonable and Competitive.



Our trailer is a "Trails West" 4-horse slant load. We are able to transport from 1-4 horses at a time depending on your requirements. The trailer can used with the spacious slant dividers or be made into 2 even larger Box stalls. Roof vents and Drop-down windows keep the horses cool in the summer and the drop-down windows close up to keep the horses warm and draft-free during the winter months. The trailer is open, airy and roomy to keep horses from feeling clastraphobic.

We stop every 2-3 hours to check the horses to make sure that their hay nets and water buckets are full as they have fresh feed and water in front of them at all times.

The animals are never left unattended at night as we have sleeping quarters within the trailer. Your horse is provided with clean pine shavings for the trip at no added cost.

Communication is important to us and we keep in touch with the customer on a daily basis to let you know how your horse is doing.

If your horse ever needs to layover at our facility, this is a service we provide at no cost to the customer.


Call or e-mail us for a quote...